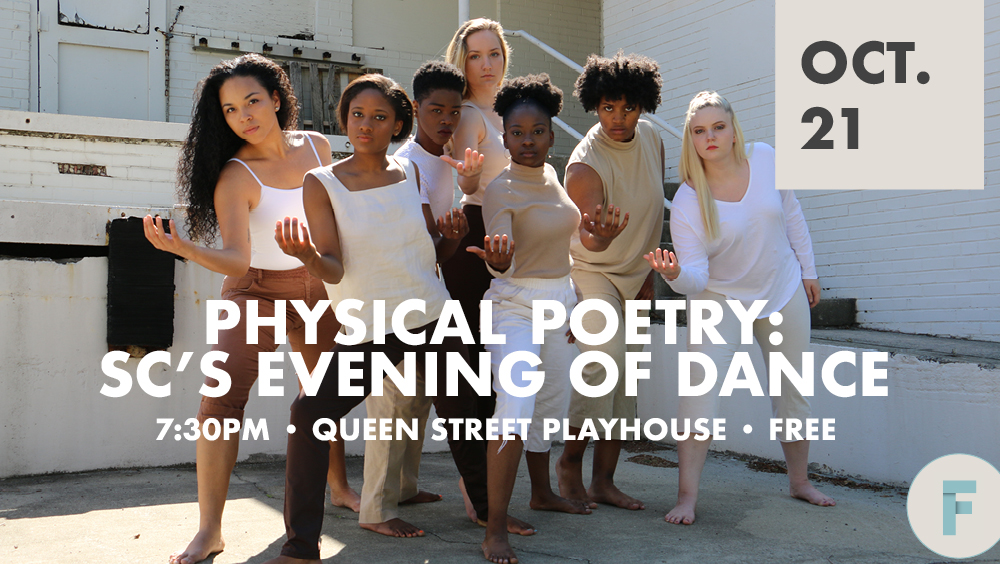 Physical Poetry: SC's Evening of Dance as part of the 2018 Free Verse Poetry Festival brings words to life on October 21st at Footlight Players (20 Queen Street, Charleston, SC) at 7:30PM. The event is FREE and open to the public. The 1.5-hour show unites prominent and emerging dance artists from around SC on one stage, displaying concerns of our state, country, and personal truths. 
Opening the evening is Annex Dance Company, a Charleston-based modern dance company directed by Kristin Alexander.  The company will share two works, W-I-L-D (2009) from their evening length work Out of the Rose inspired by WB Yeats and Bernice (2017).  The recent work Bernice was created from the poetry of Stephen Myers with an original score by Laura Ball and is a glimpse into the life of a 1920s woman with a simple, yet complicated world.
Following, Moving Body Dance Company (Columbia, SC) directed by Erin Bailey, an internationally presented dance artist, will present a work stepping into the lines of Ani Difranco's poem Self Evident. The dance explores physical conversations in order to investigate and reveal reoccurring truths about the word that the dancers inhabit.
The second half of the evening will highlight collaborations with the words of our very own Charleston poet laureate, Marcus Amaker.  Dance Matters (Charleston, SC) directed by Erin Leigh, will present an excerpt from Coming to Monuments. The work explores the history behind the display of Confederate memorials and the conflicted legacy their presence bestows.  Within the theme of activism, the night will close with the Charleston premiere of contemporary dance collective Yuhas & Dancers (Columbia, SC), directed by Meredith Yuhas.  Yuhas & Dancers absorbed Marcus Amaker's words quickly found in poems Dayglo and The Last Word to create a dance work of discourse, challenge, and kinesthetic empathy.  Set to Amaker's funky and spontaneous rhythms, the movement narrative speaks to our position of response in the face of adversity.
Do not miss the exciting physical display of rich SC talent coming together for one night only.