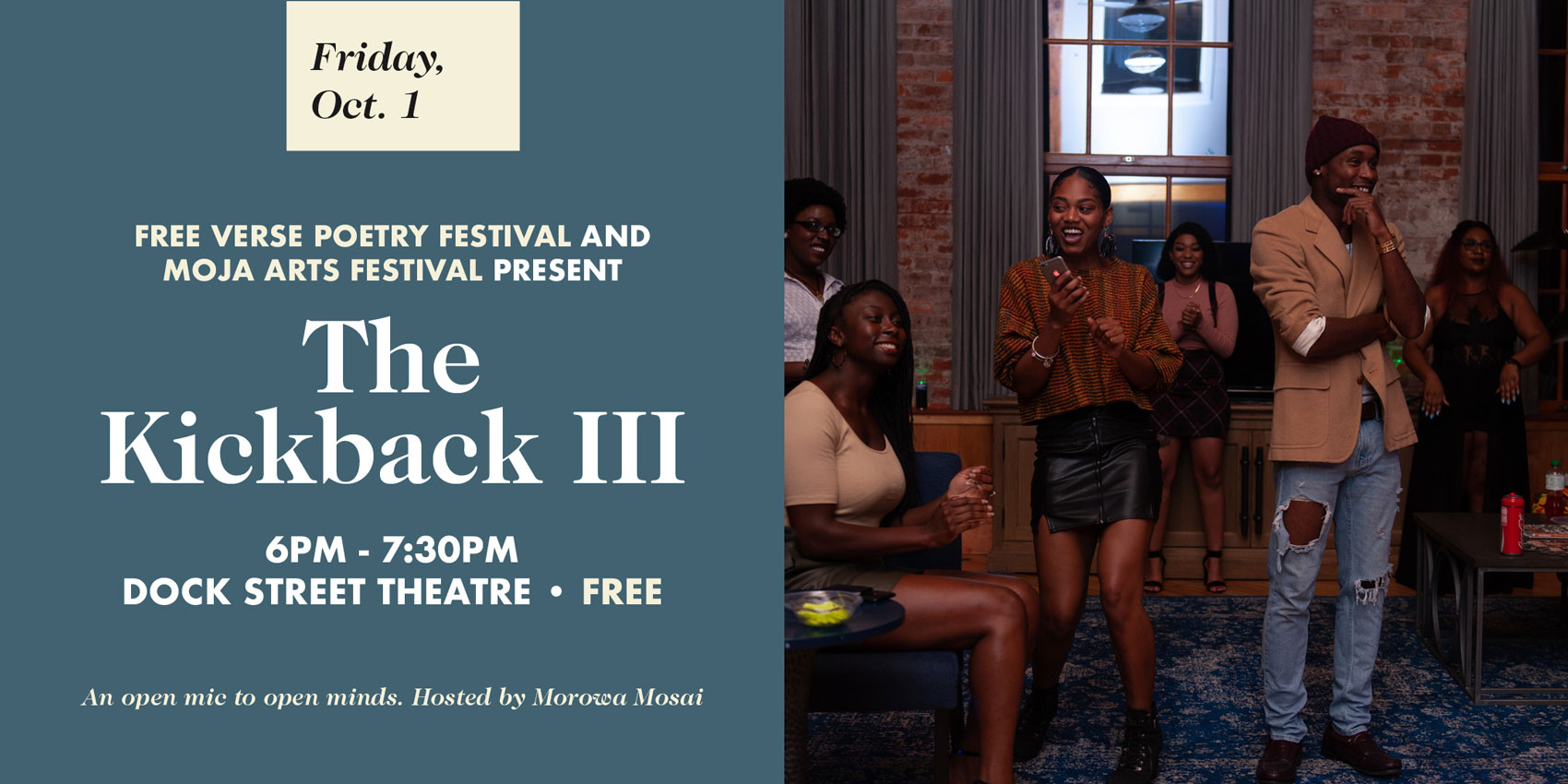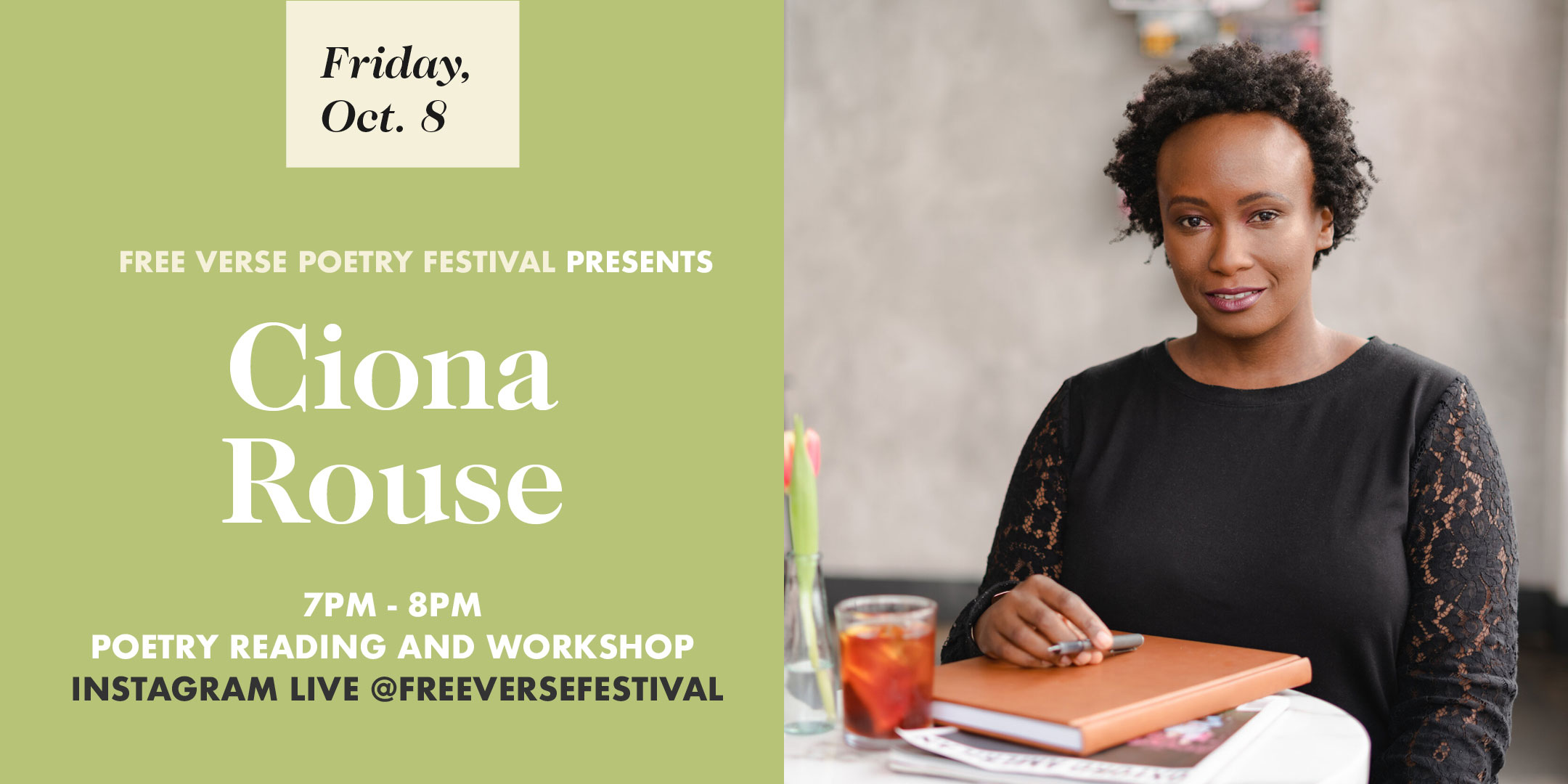 Ciona Rouse will do a poetry reading and lead a workshop on Instagram live.
Poet, editor, and teaching artist Ciona Rouse is the author of Vantablack, the first chapbook of Third Man Books' limited chapbook series (2017), which sold out within a few months of publication. Her poetry has appeared in Oxford American, The Account, Talking River, Gabby Journal, Matter: a journal of political poetry and commentary and other publications.
A literary citizen, she is poetry editor of Wordpeace, the curator of several reading series in Nashville, TN, and teaches poetry workshops and courses to various age groups.
She works with legendary saxophonist Jeff Coffin and award-winning composer Jason Shelton to create the annual solstice celebration The Longest Night at Oz Arts. Her poetry was featured on NPR Music in collaboration with musician and poet Adia Victoria and poet Caroline Randall Williams in August 2019. A graduate of Columbia College of South Carolina, Rouse currently lives in Nashville.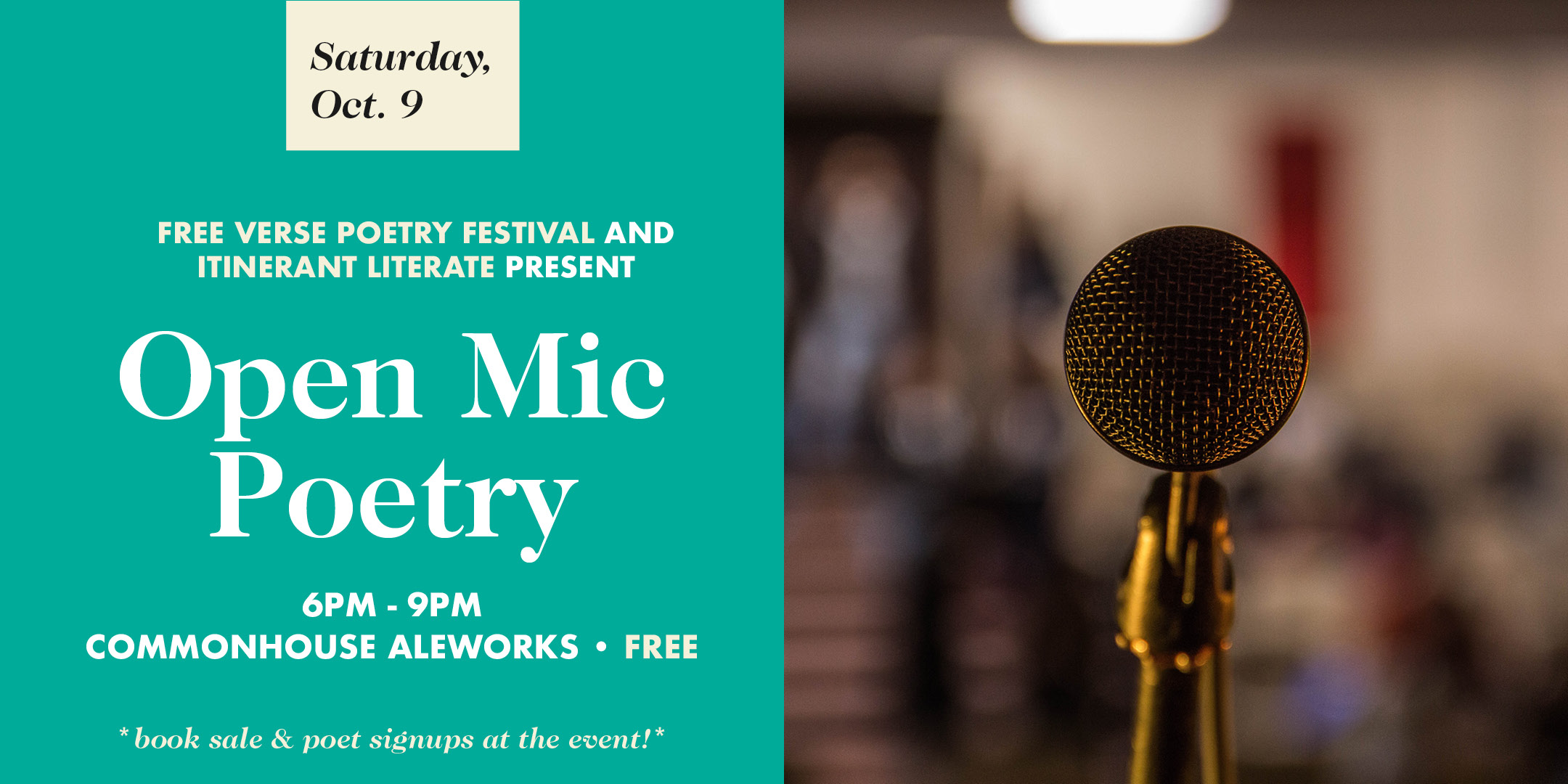 An open mic event at Commonhouse Aleworks.
Bring your poems, and share in a non-competitive environment. Poets can sign up to read at the event, and books will be on sale from Itinerant Literate.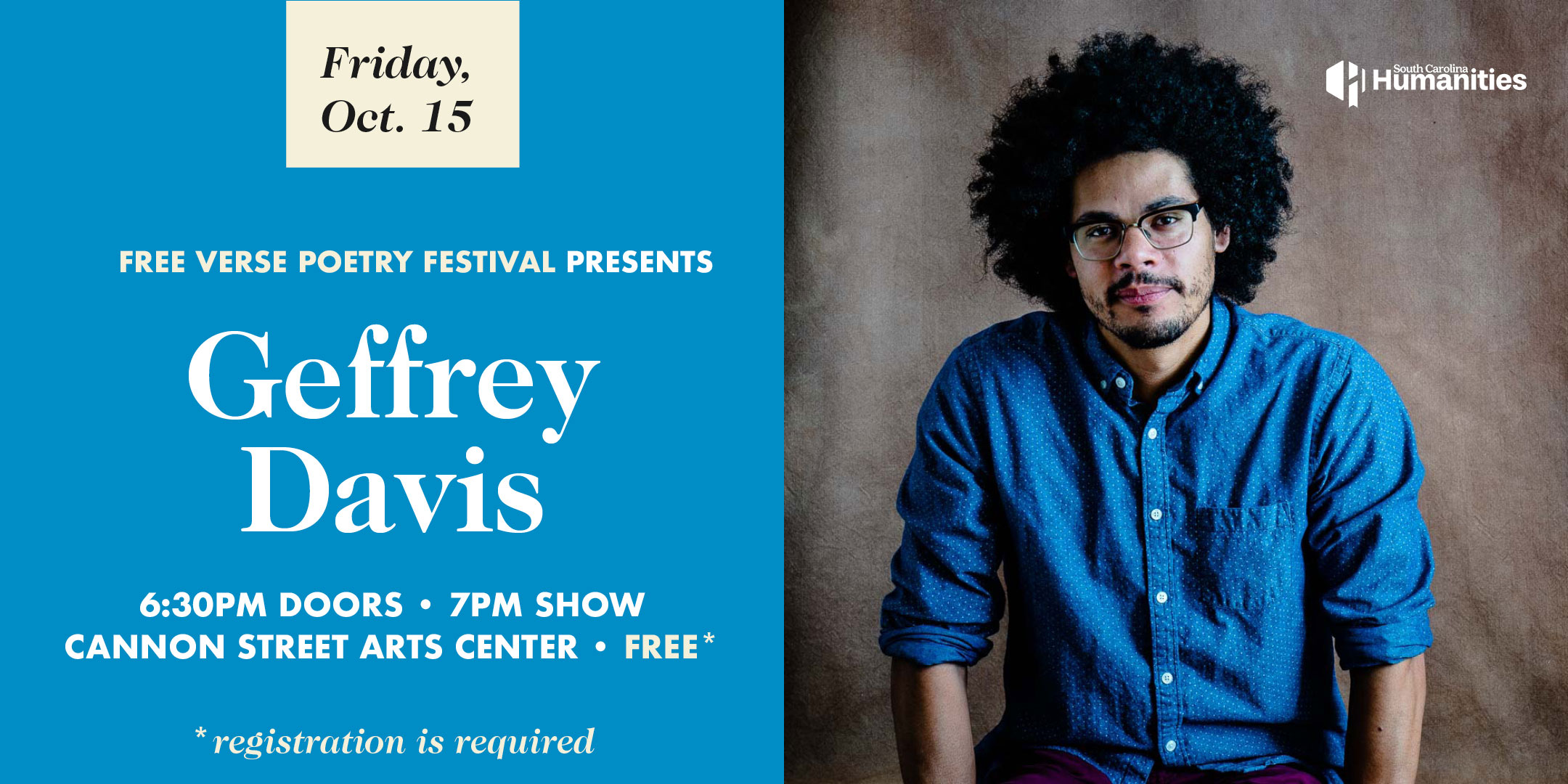 Poet Geffrey Davis performs for Free Verse Festival at the Cannon Street Arts Center.
"Davis's language winds and branches like water rolling down a dirt hill." – Muzzle Magazine"
Geffrey Davis is the author of two full collections of poetry: Night Angler (BOA Editions, 2019) and Revising the Storm ​(BOA Editions, 2014), winner of the A. Poulin Jr. Poetry Prize and a Hurston/Wright Legacy Award Finalist. Oliver de la Paz reflects about Night Angler: "The poems in Geffrey Davis's Night Angler sing in both ecstatic joy and tremendous lament. We partake in the rituals of fatherhood―both coming into and growing out of the spiritual bond. We witness the anguish of loss but also the possibilities of childhood. And in that threshold between life and death where all fathers and sons traverse, the brilliant harmonies of understanding arise in rainbowed arcs like epiphanic trout rising to kiss the sun. Poetry and prayer have never shared so close a breath." He is also the author of the chapbook Begotten (URB Books, 2016), coauthored with F. Douglas Brown.
Free Verse, LLC is supported by South Carolina Humanities, a not-for-profit organization; inspiring, engaging, and enriching South Carolinians with programs on literature, history, culture, and heritage.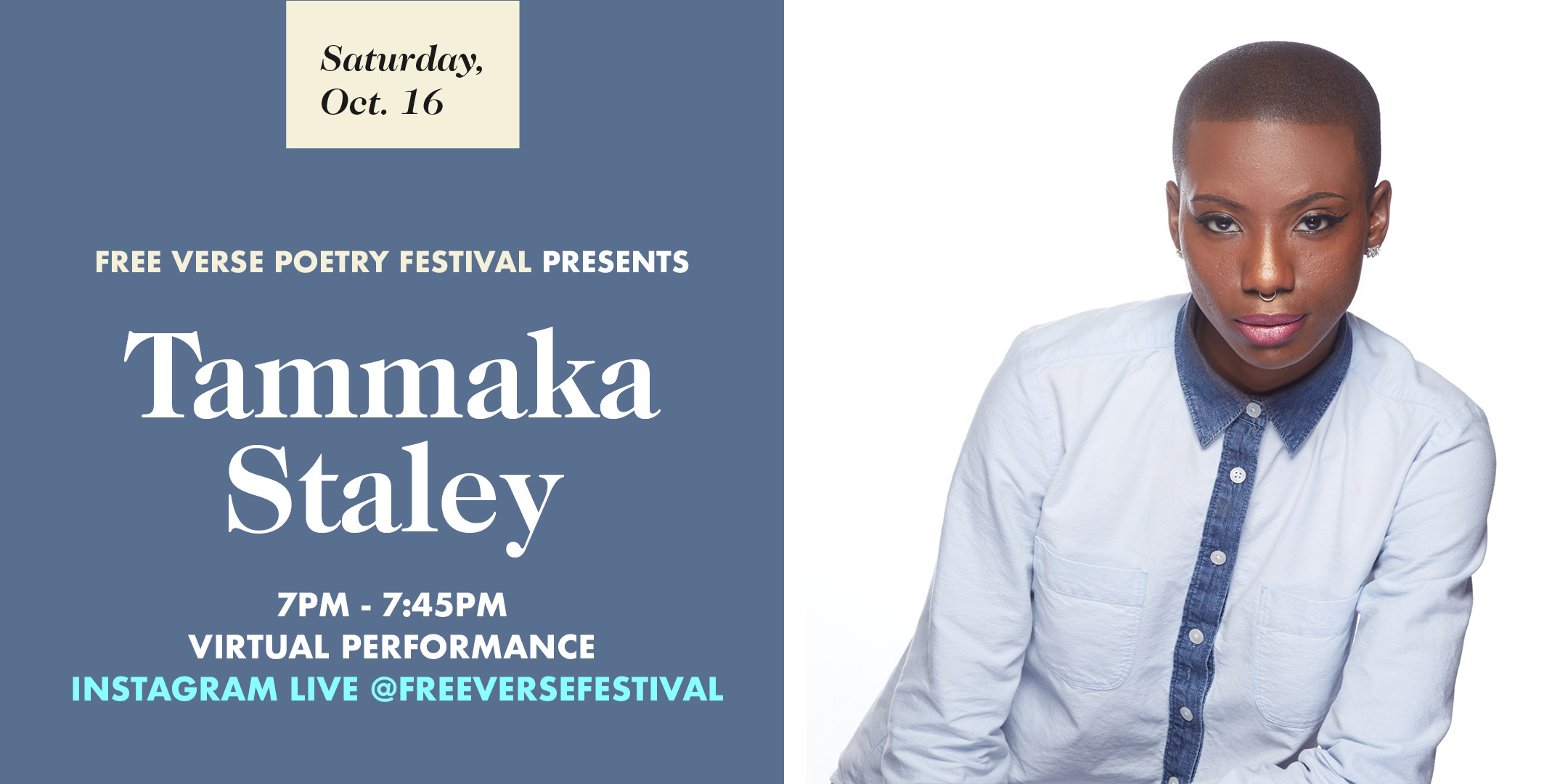 Poet Tammaka Staley will perform on Instagram live.
Tammaka Staley (she/they) is a spoken word artist and sex educator from Columbia, SC. Tammaka operates a performance art and speaking brand called Talks with Tammaka, and they are also the Founder and Executive Director of Youth Affirming Sex Education (YASÉ), LLC, a youth organization providing decolonized, comprehensive sex education for 12-19-year-old youth. They create digital workshops and content  about gender, racial, and sexuality inequities.
Tammaka is also a 2x Queen of the South poetry slam champion. She was the featured guest artist in a contemporary dance piece called Curvelss Smile during the 2016 National American College Dance Festival at the John F. Kennedy Center for Performing Arts. She is also featured in the Huffington Post, Write About Now (WAN) Poetry, Glamour Magazine, and SELF Magazine. Tammaka encourages people to be more intentional about unlearning, relearning, and recreating norms.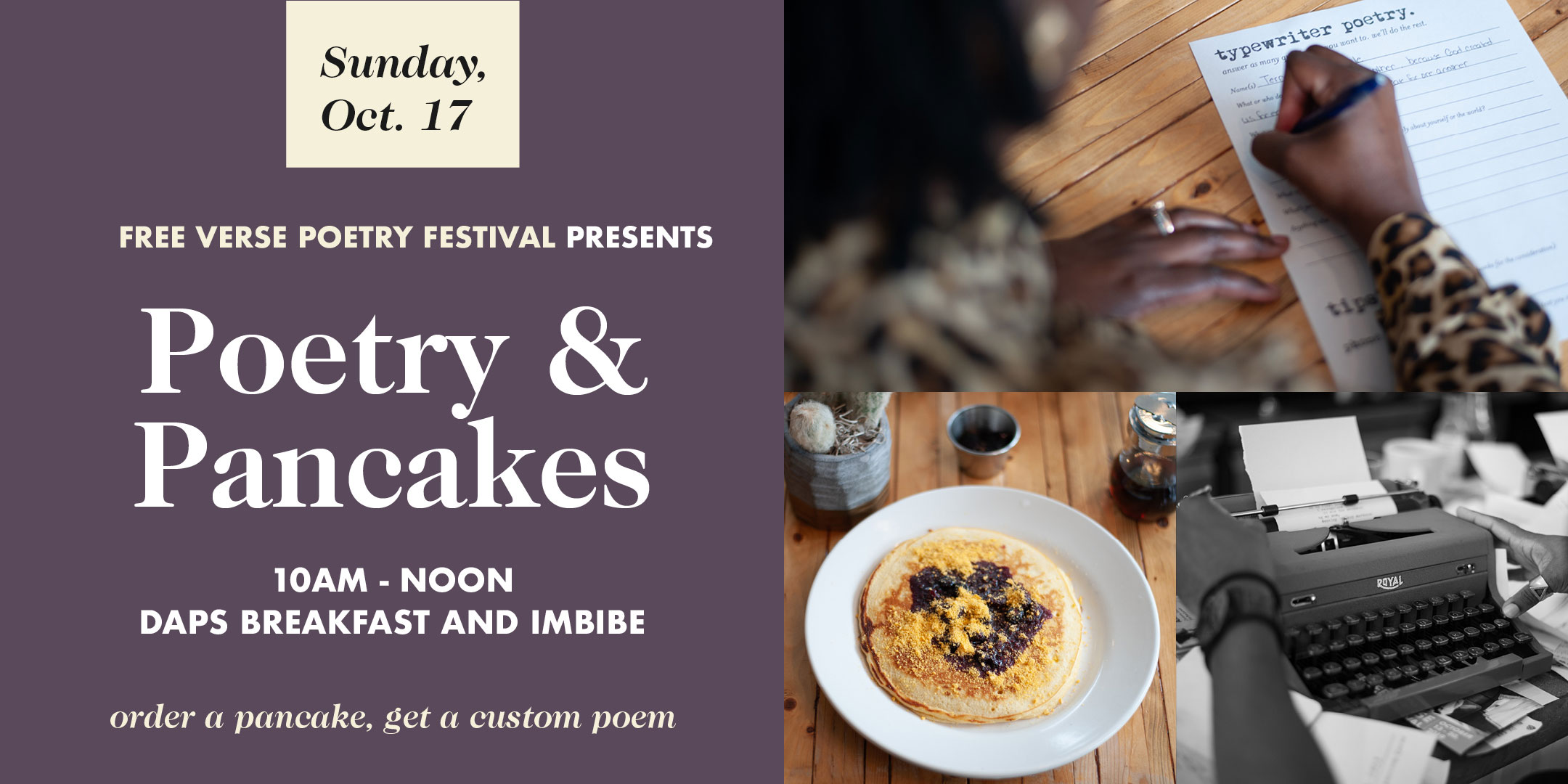 Order a pancake and get a poem at Daps.
Order a pancake and get a custom poem! Local poets will be on hand at Daps with typewriters, creating custom poems for patrons.
Feel free to buy a mimosa for the poets. =)
(One poem per table, please?)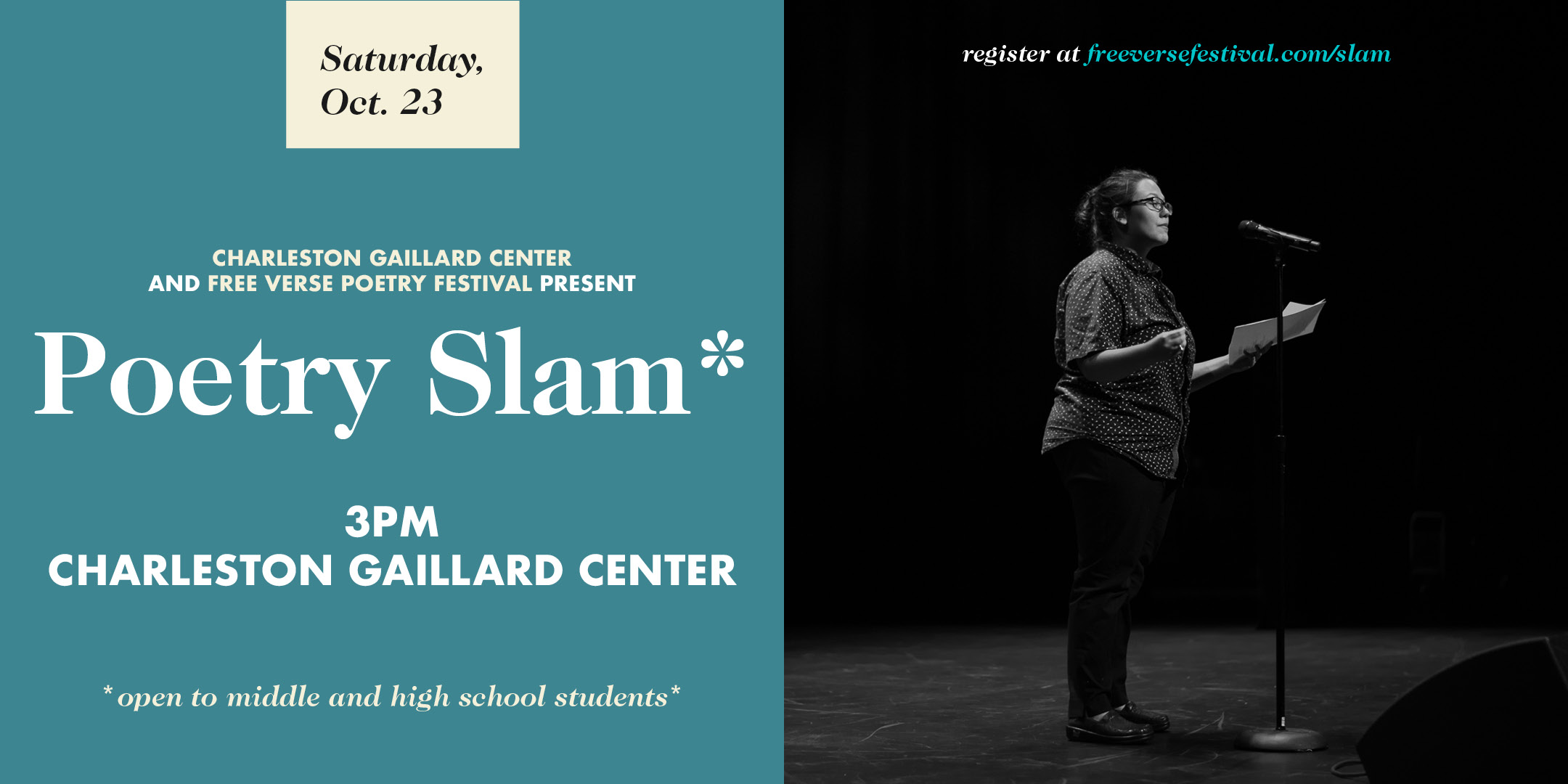 NOTE: THIS EVENT HAS BEEN POSTPONED. Stay tuned for more info on when we'll do another slam.
A poetry slam for middle and high school students at the Charleston Gaillard Center. Parents and guardians – come and watch the slam to support the poets!
Join Gaillard Artist-in-residence, Marcus Amaker, for the Gaillard's Annual Youth Poetry Slam. Celebrate poetry with a little friendly competition. The slam is open to all middle and high school students. Students should prepare three poems, memorization is not required. The competition yields three winners with small cash prizes.
FIRST PLACE: $150
SECOND PLACE: $100
THIRD PLACE: $50
Each winning poet will receive three free poetry books.
Charleston Gaillard COVID INFO:
All staff, volunteers, and patrons over the age of 2 will be fully masked, except when eating or drinking.
Patrons will need to provide proof of full vaccination OR a negative COVID-19 test taken within 72 hours.
Read more at the Charleston Gaillard Center's Patron Safety Page.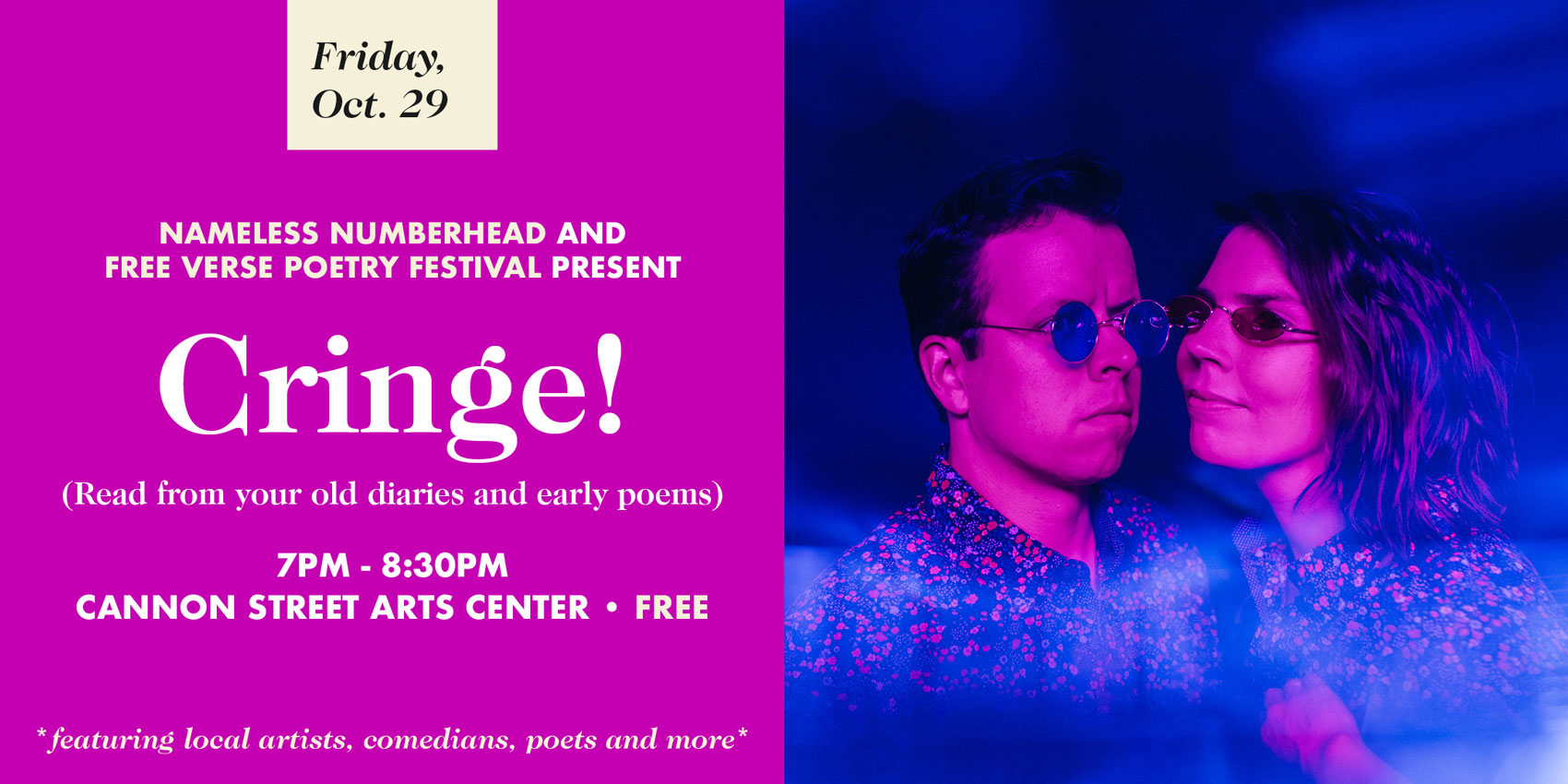 Do you have your old diaries or poetry journals? Now that you are a 'grownup,' it'll be cool to read from them on stage, right? Not embarrassing, right? 🤔
Welcome to Cringe, a fun celebration of your former self. Hosted by Nameless Numberhead.
Those who plan to attend will need to provide proof of full vaccination OR a negative COVID-19 test taken within 72 hours of the event. Vaccination proof and the negative test can be shown through a printed card or a photo on a mobile device.
NAMELESS NUMBERHEAD is a hyperbolic comedy duo with over 400 years of experience. Maari Suorsa and Henry Riggs have toured colleges and festivals all over the country and have been featured on Funny or Die, San Francisco Sketchfest, NY Sketchfest, Cincinnati Fringe, Dallas Comedy Festival, TedX Charleston and more. Charm City Comedy Project calls Nameless Numberhead "one of the most compelling sketch shows we've ever hosted."